Clonegal represented the Country!
Clonegal was nominated by The Department of the Environment, Community and Local Government to represent Ireland in the Village category of the 2013 European Entente Florale Competition. Each year one village and one town in Ireland are selected to represent their country in one of Europe's most prestigious competitions, so it was a great honour for the people of Clonegal to have their village chosen to represent Ireland. Eleven countries competed in this competition including: Austria, Belgium, United Kingdom, Germany, Hungary, Italy, The Netherlands, Slovenia, Croatia, Czech Republic and Ireland. This project was co-ordinated through the Community & Enterprise Department of Carlow County Council, under the Leadership of Director of Services Bernie O'Brien and her team including Anna Byrne & Jannette O'Brien.

Why Clonegal?



Clonegal often has been referred to as the "Switzerland of Ireland". Cradled in the valley between the Blackstairs and Wicklow Mountains and straddling the meeting place of the rivers Slaney and Derry, Clonegal hosts breath taking views of an unspoiled natural beauty.
This beautiful village has a tremendous respect for its history and Heritage which spans many centuries, but yet the proactive community of Clonegal continues to go from strength to strength over the years.
Clonegal has taken part in the National Co Operation Ireland Pride of Place platform, as well representing the County in Washington USA at Nations in Bloom. The Community has been working tirelessly on the Tidy Towns programme for over 20 years, which has resulted in attaining and maintaining Gold medal status in 2010, 2011, 2012 & 2013.
It is no surprise that the village and its warm community were selected to represent the Country in the Entente Florale International Competition 2013.


Clonegal took part in Entente Florale?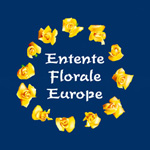 To be chosen to represent your County is an honour and Clonegal had the opportunity to perform on an international stage.
Participation in Entente Florale is a wonderful occasion for all of the community to get involved play your part, no matter how big or small, for your area, as well as an opportunity to learn something new about where you live.
There are terrific opportunities to showcase the Village and all of the wonderful things it has to offer to a wider European audience, which has a huge Tourism potential to the area.
Visit Entente Florale website: http://www.entente-florale.eu/