Co-operation Ireland IPB Pride of Place Judging Day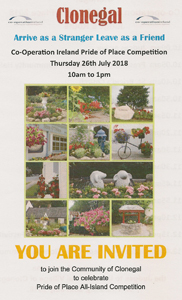 Judging Day is Thursday 26th July 2018 10.00am to 1.00pm.

You are invited to join the Community of Clonegal to celebrate the Pride of Place All-Island Competition. The day begins at 10.00am in St. Brigid's Community Hall and after a 20 minute presentation the Judges will begin their walk-about. In the following order they will visit: St. Brigid's Church, St. Brigid's School, St. Fiaac's Church, Valleyview, St. Brigid's Terrace, Wicklow Way Park, the Weavers' Cottages, the Ball Alley, Watch House and finally Huntington Castle. There will be entertainment on the route and ending with Fun, Food and Festivities in Huntington Castle.
All are most welcome, come along and enjoy the celebrations.