Entente Florale

Clonegal represented Ireland in the Entente Florale European Competition 2013





A Fantastic Day in Clonegal - Entente Florale European Competition
On Thursday the 25th July 2013 the International Judges arrived in Clonegal at 8.30am to begin their inspection of our village. They were led into Clonegal by a piper and two people on horseback. After short Ecumenical Prayers with Rev. Michael Stephenson and Fr. Tom O'Byrne, the Cathaoirleach of Carlow County Council Cllr. Des Hurley welcomed the Judges and the chairperson of The Entente Florale Jury Inka Truxova raised the Entente Flag. Following the Flag Ceremony there was a PowerPoint Presentation in the Community Centre with Ellen; Anna Cosgrove; Mary O'Neill Moloney and John McCabe. Then the Jury and the community visited St. Brigid's Church and given a brief history of the Church by Fr. Tom O'Byrne. Then the pupils of St. Brigid's National School guided the group around their school and gardens with music, song and dance. The Judges accompanied by members of the community boarded the bus for St. Fiaac's where a brief history of the Church was given by Rev. Michael Stephenson with beautiful music and dance. The group could relax for a little time and were treated to very welcomed refreshments. After about 20 minutes they were back on the road and headed to St. Brigid's Terrace where they met with the Local Residents. Some short steps away are the Weaver's Cottages where they were entertained by demonstrations on bread making, weaving and spinning. The restored garden at the back of the cottages was spectacular. Then all headed down Main Street to admire the village in pristine condition stopping off at the newly constructed Community Gardens. Then it was a Riverside Walk and over the bridge to Watch House. Pike-men were on duty along the route! On the bridge everyone was entertained with the singing of Boolavogue. It was onto the bus again and they headed for Ben Mulhall Park. The Judges were astounded by the Ben Mulhall Park and the versatility in the use of the grounds as well as the community commitment to financially sustaining such a wonderful community asset. The bus was boarded again for the final journey to Huntington Castle and the group was given a tour of the castle. The Judges then retired for their deliberations. Just after 2.00pm the Judges mingled with the crowd in the courtyard of Huntington Castle where there was a great carnival and festive atmosphere. After a beautiful lunch the Judges departed for Ballincollig in Cork. Ballincollig's judging day was Friday 26th July.
Results for the Entente Florale Competition was announced in Nieuwpoort, Belgium on Friday 25th September 2013, and Clonegal was awarded a Gold medal.

To view the Entente Florale section please click / tap here


---

The Entente Florale Competition began in 1975 with two participating countries France and Great Britain. Over the years the competition grew in popularity and attracted other members. Ireland joined in 1981 when the Tidy Towns Competition was still under the auspices of Bord Failte. The present membership is twelve countries - Ireland, Britain, France, Italy, Netherlands, Belgium, Germany, Austria, Slovenia, Czech Republic, Hungary and Croatia.

Adjudication
While there are similarities with the Tidy Towns competition, there are a few differences. The emphasis is on the partnership between the local authority and the local community working together to achieve goals and objectives, and as such the Entente Committee consisted of members of the local authority working together with the Tidy Towns Committee.
The day of the adjudication the Entente Committee gave a presentation (in PowerPoint) on the village. It was based on a plan for the village and set the scene for what the adjudicators saw during their stay. The presentation was 45 minutes and addressed the criteria set out in the Competition Brochure.
Adjudicators spent a full day adjudicating and obviously were very impressed with what they saw - they saw Gold in Clonegal!

Visit Entente Florale website: http://www.entente-florale.eu/

The Gathering 2013

The Gathering 2013 coincided with Clonegal representing Ireland in the Entente Florale European Competition. This was a great opportunity to invite relatives and friends to join the community in celebrating this great event in July 2013.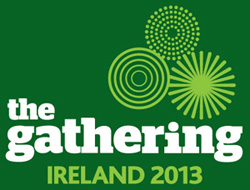 The Gathering Ireland 2013 was a spectacular, year-long celebration of all things Irish.

Throughout 2013, Ireland opened its arms to hundreds of thousands of friends and family from all over the world, and called them home to gatherings in villages, towns and cities.

Communities throughout Ireland showcased and shared the very best of Irish culture, tradition, business, sport, fighting spirit and the uniquely Irish sense of fun.
Over 70 million people worldwide claim Irish ancestry. The Gathering Ireland 2013 provided the perfect excuse to reach out to those who have moved away, their relatives, friends and descendants, and invited them home.
The Gathering was the people's party. It kicked off in spectacular style at the New Year's Eve Festival in Dublin and was celebrated through gatherings of the people and Ireland's major festivals during 2013.


Visit the Gathering 2013 website: http://www.thegatheringireland.com/